The ROUND BARN
To order volumes of The Round Barn by check, you may download the order form, print, and send check or money order. To order by credit card, please use the Paypal portal below. It is not necessary to have a Paypal account.
Click to enter our discount code.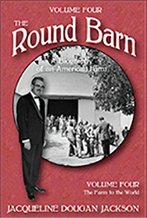 VOLUME FOUR:
The Farm to the World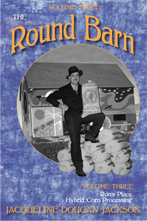 VOLUME THREE:
Ron's Place
Hybrid Corn Processing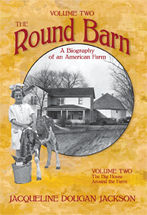 VOLUME TWO:
The Big House
Around the Farm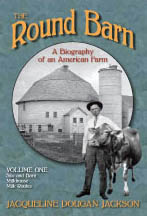 VOLUME ONE:
Silo and Barn
Milkhouse
Milk Routes
Begun with a promise to Grampa when Jackie was just fifteen, The Round Barn is now in print! Join her as she shares farm stories spanning almost seven decades. Meet "Daddy Dougan," Ron, Vera and the kids: Joan, Patsy, Jackie and Craig; the hired men, neighbors, and the town beyond. With dozens of authentic photos, this book is touching, funny, tragic, and warm —truly
"A Biography of an American Farm."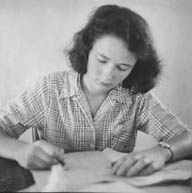 PROLOGUE
Jackie is fourteen. She sits on the arm of Grampa's easy chair. She rumples his thinning hair and shapes it into a Kewpie-doll

twist. This is a ritual, with all the grandchildren, ever since they were little. Grampa laughs with his stomach, silently.
An idea strikes Jackie. She takes a pencil and paper. These are always near Grampa, for Grampa is deaf. They are always near Jackie, too, for Jackie writes things down. Maybe she has this habit from writing for Grampa all her life. Being his ears. She writes, "Grampa, I am going to write you a book. I am going to call it, The Round Barn."
Grampa studies the paper. He takes a long time to ponder it. Then he nods slowly. "The Round Barn," he says. "Yes, the round barn will have a lot to say." He crinkles all over his face and laughs silently. He is pleased, she can tell.
"I can write," Jackie says to herself, "what the round barn sees. Not just what I know it sees. But what Grampa knows it sees. And Daddy. The milkmen. The cows. All of us! For the round barn is in the middle of us all, and it sees everything. It is the center."
Prologue, Volume I