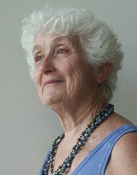 JACKIE
Jacqueline Jackson grew up on a Wisconsin dairy farm amidst extended family and pet goats. Various accounts of her early years are included in this volume, and in two earlier Barn books. She majored in Classics at Beloit College, studying with poet Chad Walsh and artist Franklin Boggs. At the University of Michigan her writing tutor was Hopwood Director Roy Cowden. She began teaching at Kent State University, and continued at Sangamon State (now U of Illinois Springfield) where she was on the founding faculty. She led eight groups of students on hostelling trips to England. Studying Children's lit one group climbed Watership Down with Richard Adams; on a mysteries trip, they spent a day with Colin Dexter.
At eight Jackie Jackson won a first in short stories at Beloit's city-wide hobby show; her first novel was serialized in The Galesburg Post when she was ten. As an adult she has published twelve books, two self-illustrated, has had plays and musicals performed, and her stories read over Wisconsin Public Radio. The Taste of Spruce Gum was the 1968 runner-up for the Newberry Award. For twenty years she hosted "Reading and Writing and Radio," listened to in classrooms throughout Wisconsin's School of the Air, and in Central Illinois. Some of the programs are included in her writing book, Turn not Pale, Beloved Snail, and are free (here) on her personal website for classroom or personal use. She currently has a weekly poem in Springfield's Illinois Times.
Jackie Jackson's daughters are Damaris, Megan, Gillian, and Elspeth. She has six grandchildren, all (of course) above average; and two adorable great-grandsons.